Welcome to Our Website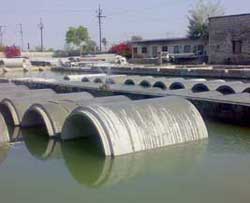 With our experience of almost three decades, we offer a range of products such as Cement Concrete Pressure Pipes, RCC (Reinforced Cement Concrete) pipes, AC (Asbestos Cement) Pressure Pipes, SFRC Concrete Manhole Covers and Frames and other allied RCC/CC Products that are reckoned for their durability and robust construction. Our adherence to standards specified by BIS has assisted us in getting a competitive edge over our competitors. With our ethical and transparent business policies, we have acquired a large base of clients, which include some of the leading names such as Pradhan Mantri Gram Sadak Yojna (PMGSY), PWD, PHE, National Highway Authority of India (NHAI), L&T and others. Further, considering a huge potential of pipes for drinking water supply in the future, we have diversified into manufacturing AC pressure pipes that is a cost effective means of providing pipelines for water supply and boring. Today we are counted among the topnotch RCC Spun Pipes Manufacturers. In addition, we are well acknowledged among the primary RCC Hume Pipes Suppliers. Supported by our sister concern M/s Gwalior Concrete Works, we offer a range of SFRC chember cover and frames , Fencing Poles, Pavers, Kerb Stones, Boundary & KM Stone, Boundary Fencing and other RCC/CC Products that? are engineered in accordance with the requirement of our clients.
"We Pride ourselves to be the part of Building Nation" Read more...